In the past several months, a number of Revenue Cycle Performance Improvement efforts have been initiated to include the implementation of Enterprise Task Management tools for the GE/IDX practice management system. ETM is designed to improve work flows and efficiency as staff process claims in the GRMA business office. In addition, goals were established for revenue cycle performance and the Phase I reorganization of the coding and charge capture department was completed. We have a much larger Phase II reorganization of our coding, billing and documentation education departments to look forward to in 2015. Recognizing the feedback we have received from our physicians requesting more education and feedback about their clinical documentation, we are committed to overhauling this very important GRMA support department in early 2015.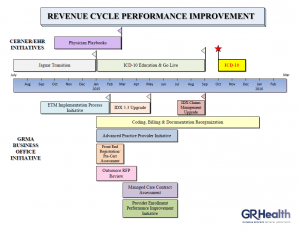 Recognizing the critical importance of clinical informatics and documentation timeliness and accuracy to quality and revenue cycle performance, we have increased our efforts to improve the CERNER electronic health record (EHR). Working with our Jaguar Collaborative partners and our new Chief Medical Information Officer, Dr. David Fallaw, new and improved physician "playbooks" are being developed and will be rolled out in February. Numerous other improvements to the CERNER system are also underway and are designed to improve usability for our providers and the entire treatment team. For more information about the CERNER EHR improvements, contact Dr. David Fallaw at dfallaw@gru.edu.
Our GRMA claims processing team led by Terrilyn Jones and our ambulatory services administrative support team led by Joe Thornton are working with our Jaguar collaborative partners to implement an important and long overdue upgrade to GE/IDX, the GRMA practice management system. In February, the upgrade from version 4.3 to version 5.3 goes live with project completion slated for May 2015. For more information about the IDX upgrade, contact Terrilyn Jones at tejones@gru.edu. The IDX Claims Management Upgrade will be completed in September 2015 – just in time for ICD-10 in October!
The long-awaited and often delayed implementation of ICD-10 is expected on October 1, 2015. Led by Melissa Jarriel, efforts are currently underway to prepare for ICD-10 implementation across the GRHealth enterprise. Working with our GRMA coding and charge capture managers and billing coordinators, GRMA support for ICD training is being coordinated by Janice Douglas, manager for audit, compliance and documentation education department. ICD-10 trainings for physicians, advanced practice providers, residents, medical students and coding staff will take place over the next several months. For more information about ICD-10 implementation and training contact Melissa Jarriel at mjarriel@gru.edu or Janice Douglas at jadougla@gru.edu.
A number of additional revenue cycle performance improvement initiatives will be underway shortly after the first of the year. The Advanced Practice Provider (APP) initiative will help us assess our current state of advanced practice providers (e.g. nurse practitioners, physician's assistants, CRNA's, etc.) and move toward a more contemporary organization and improved clinical and billing processes.
In 2015, GRMA will look forward to assessing the people, processes and technology associated with several additional areas of the revenue cycle including: front-end registration and pre-certification, provider enrollment and managed care. We will consider the potential of partnering with targeted outsource organizations and work closely with our department chairs and administrators in conducting our assessments. Once these evaluations are completed, we will develop action plans and timelines for implementation.